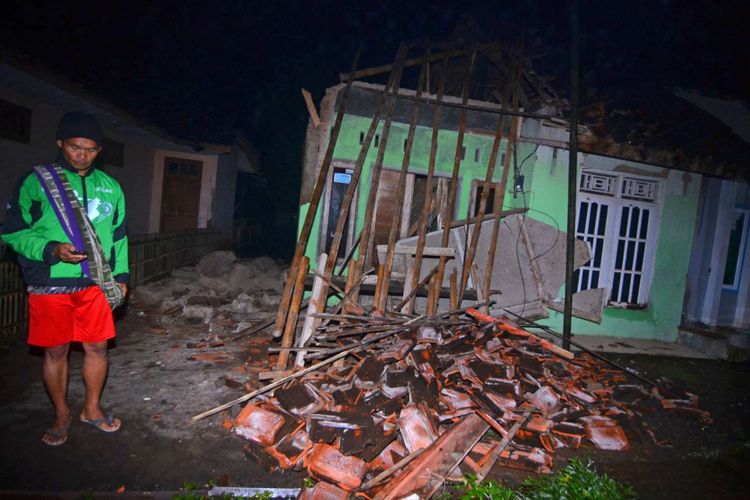 Throughout 2017, Indonesia recorded a series of important events, including natural disasters.
The National Disaster Management Agency (BNPB) reported that there were 2,175 disasters in Indonesia from the beginning of the year to 4 December 2017.
The incidents consisted of floods (737 events), tornado (651 events), landslides (577 events), forest and land fires (96 events), floods and landslides (67 events), drought (19 events), earthquakes. (18 events), tidal wave / abrasion (8 events), and volcanic eruptions (2 events).
BNPB's Head of Data Information and Public Relations, Sutopo Purwo Nugroho, said that the incidence of disasters in Indonesia is increasing from year to year. According to him, as many as 95 percent of disasters in Indonesia are hydrometeorological disasters.
"Namely disasters that are affected by weather. (Such as) landslides, drought, tornadoes, forest and land fires, and extreme weather," said Sutopo in his presentation at the BNPB office, Jakarta, Tuesday (5/12/2017).
BNPB recorded the number of victims who died reached 335 people, injured victims were 969 people, and victims were displaced and suffered as many as 3.22 million people.
Here we summarize the seven worst natural disasters throughout the year in Indonesia.
1. 7 Sumbawa sub-districts were flooded
2017 began with a flood that hit 7 sub-districts in Sumbawa regency, NTB. This is because the rain continued to flush for five days from Monday (6/2/2017) to Saturday (11/2/2017).
Sutopo said the sub-districts that were hit by the floods at that time were Labuan Badas, Empang, Terano, Sumbawa, Unter Iwes, North Moyo, and Moyo Hilir. A total of 49,541 people were affected by the flood in the 7 sub-districts.
2. The area where the landslide in Ponorogo was left is designated the Red Zone
One of the next worst disasters was a landslide that occurred in Tingkil Hamlet, Banaran, Pulung, Ponorogo, East Java, on April 1, 2017.
The incident buried at least 30 houses in two RTs and fields reaching 800 meters in length and 20 meters in height.
About 38 people were buried by landslides. 7 people were reported dead.
From this incident, the East Java provincial government designated the landslide area in Banaran Village, Pulung, Ponorogo as a red zone. This means that this area is considered dangerous and activities are prohibited.
Two dogs from the East Java Regional Police help find victims of landslides in Banaran Village, Pulung District, Ponorogo Regency, East Java, Monday (3 / 4/2017).
3. Sileri Dieng Crater erupted and the area was temporarily closed
This incident occurred on Sunday, July 2, 2017. Due to the eruption of the crater located in the Dieng mountain area, dozens of tourists were injured.
Sutopo said the eruption was accompanied by cold lava, mud and smoke that reached 50 meters. The eruption hit a number of tourists who were around Sileri Crater.
"Based on a temporary report from BPBD Banjarnegara, when the eruption occurred there were 17 visitors or tourists," said Sutopo at that time.
Sileri Crater Dieng, Central Java, erupted on Sunday (2/7/2017).
4. The end of the year was marked by earthquakes
Several earthquakes occurred more frequently in the second half of 2017. Apart from several areas of Eastern Indonesia, the last one also occurred was a devastating earthquake that rocked the southern island of Java.
An earthquake occurred in Ambon on October 31, 2017. Within 14 hours there had been 88 earthquakes. During this incident, 40 houses, 4 schools and 2 campus buildings were damaged.
An earthquake also rocked Lebong Regency, Bengkulu Province, Wednesday, December 6, 2017. The earthquake measuring 5.1 on the Rhicter scale (SR) damaged 233 houses there.
Most recently, the Tasikmalaya earthquake occurred on Friday (15/12/2017) at midnight. This earthquake hit southern Java twice. The first earthquake was at 23.04 WIB with a magnitude of 4.5 and the second earthquake at 23.47 with a magnitude of 6.9.
As reported by Kompas.com Saturday (16/12/2017), two people died as a result of falling debris. Apart from the casualties, there were seven residents injured and hundreds of houses damaged. Sutopo said, the number of damaged and collapsed houses was 43 units, 65 units were moderately damaged and 10 units were slightly damaged.
The areas affected by the earthquake were in Pangandaran, Tasikmalaya, Ciamis, Banjar, Garut, Cilacap, Kebumen, Pekalongan, Banyumas, Brebes and Banjarnegara districts.
Map of the Tasikmalaya earthquake and its effects in the surrounding area, Friday (15/12/017) at midnight.
5. Mount Sinabung erupted twice
This year, Mount Sinabung in Karo Regency, North Sumatra, has erupted twice with high intensity. This happened on Saturday, 20 May 2017 and the second on Wednesday, 2 August 2017.
In the second incident, on that day, from 8.00 am to 12.00 WIB several eruptions occurred and 17 hot clouds fell.
"There were no casualties, but thousands of residents were directly affected volcanic ash rain due to the eruption of Mount Sinabung, "said Sutopo in a written statement received by Kompas.com.
The eruption of Mount Sinabung is seen from Tiga Pancur Village in Karo, North Sumatra, Friday (3/11/2017). The Karo Regency Government still determines a radius of 5 kilometers from the Sinabung area as a forbidden zone because eruptions occur almost every day with varying height of the ash column.
6. Mount Agung erupts
Before it erupted on Tuesday (21/22/2017) at 17.05 WITA, Mount Agung in Karangasem, Bali, has been showing its activity since mid-September.
During the month of September, tens of thousands of people evacuated independently to a safer place. The number is nearly 100 thousand people. Earthquake activity until (11/10/2017) recorded 18,228 earthquakes.
When it erupted, the ash burst reached a height of approximately 500-700 meters and was blown to the east and southeast. A number of villages around the slopes of Mount Agung were hit by volcanic ash rain.
Sutopo Purwo Nugroho, Head of the Data Information and Public Relations Center for the National Disaster Management Agency, said that until December 5, 2017 there had been no decrease in the alert status of Mount Agung in Bali.
"There has been no decrease in alert status. Even though since November 30 until now there has been no eruption, there has even been a decrease in ash or smoke coming out of the crater," Sutopo said in a presentation in Jakarta, Tuesday (5/12/2017).
Residents pray at their house in Besakih Village, Karangasem, Bali, Tuesday (28/11/2017). The Center for Volcanology and Geological Disaster Mitigation has been monitoring the mountain ash column increasing by 4,000 meters in the last six hours since 06.00 WITA on Tuesday (28/11/2017).
7. Cempaka and Dahlia Carved History
Cempaka and Dahlia are the names of tropical cyclones that occurred at the end of November. Both became the first time in history because they were born in the same week.
The Meteorology, Climatology and Geophysics Agency (BMKG) on Monday (27/11/2017) announced that the Cempaka tropical cyclone had formed in the southern waters of Central Java, about 100 kilometers south southeast of Cilacap.
Wednesday (29/11/2017), the tropical cyclone Cempaka weakened and moved away from Indonesia, but a new cyclone named Dahlia was born. Dahlia was born in an area 470 kilometers southwest of Bengkulu.
Sutopo said the Cempaka tropical cyclone had caused floods, landslides and tornadoes in 28 regencies / cities in Java Island.
This series of disasters caused 41 people to die and disappear, consisting of 25 people in Pacitan, 10 people in Yogyakarta, four people in Wonogiri, and one each in Wonosobo and Purworejo. Meanwhile, the number of injured victims reached 13 people.
"The number of refugees reached 28,190 people, and they are still being displaced," said Sutopo in his presentation at the BNPB Office, Jakarta, Tuesday (5/12/2017).
Meanwhile, the impact of the damage caused by the Cempaka tropical cyclone, namely 4,888 damaged houses, 3,212 submerged, 36 damaged bridges, 21 education facilities damaged, four worship facilities damaged, and two health facilities.